Eyeliners are necessary to complete the eye look. Almost every female carries eyeliner in their purse to apply and refresh it. Eyeliners are essential cosmetics for most to enhance their beauty. Eyeliner is used on all occasions for a casual or formal look. There are many different types of eyeliner available in the market, such as liquid eyeliner, kohl pencil eyeliner, pen eyeliner, and gel eyeliner. However, the preference differs from one person to another. Some prefer particular brands, and some specific types. Therefore, the market is competitive when it comes to eyeliners. So companies use various styles of packaging boxes for eyeliners to attract customers. These eyeliner boxes are not only for the protection of the liner but also to provide visual appeal. A better design for the box will raise the market recognition of eyeliner.
Method to create Custom Eyeliner Boxes:
Customization of things enables something to be exclusive. One can customize their eyeliner boxes so that their product is distinctive in the market. You can create custom eyeliner boxes by following these steps:
Box style for the eyeliner:
The first step toward the customization of eyeliner boxes is the selection of box styles. There are a lot of box styles one can select from, such as sealed end boxes, sealed end auto boxes, or tuck end boxes. All these could be further enhanced with the custom window cuts, tuck style, or hang tab style. By going over these style options, select an appropriate style for the eyeliner according to its type and use.
Select a packaging size for boxes:
Now that you have selected the box style, select a suitable size for the eyeliner product. When selecting the size, put more consideration into making the box handy and safe. An unnecessarily huge box will cause a nuisance to customers. Whereas a fit box will limit the product movement. Get the right size box for your eyeliner after proper measurement.
Custom design your eyeliner boxes:
One can customize their boxes through a specific design or custom prints. Such as writing its specialties in bold and adding an attractive picture. You can have a custom print on the box after designing it with a customized logo, and artistic fonts. In designing and styling put effort into making your customized eyeliner boxes eye-catching and sophisticated.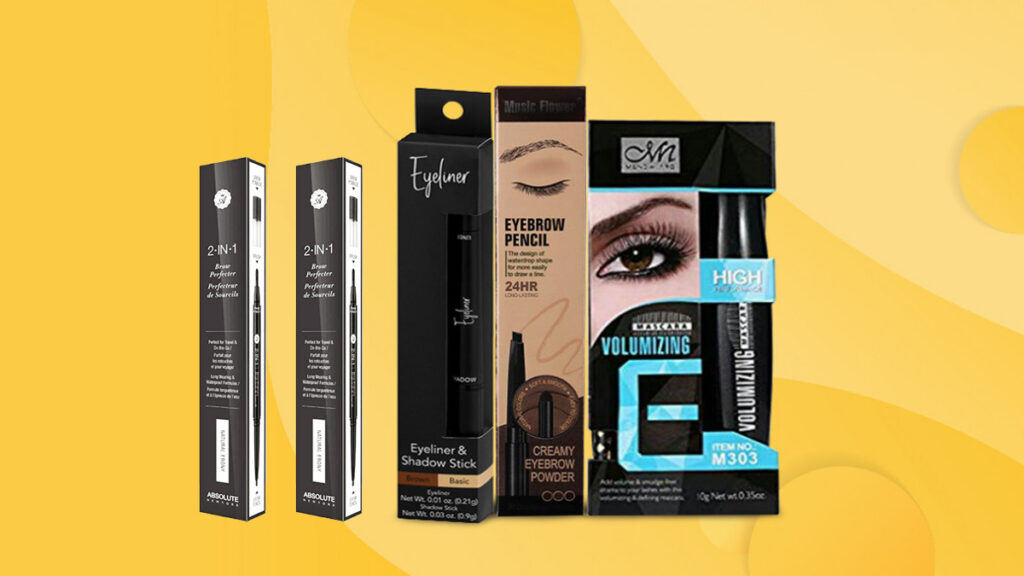 Select the color theme for the box:
Selecting a suitable color is an important component in preparing customized boxes. You can go for an appealing color theme. You can also create a contrast in colors such as neutral background with a bright design on it. But do not go overboard in color usage as it can make boxes look excessive and messy. So be particular in your choice and stick to it.
Select appropriate material:
Although cardboard is the most commonly used material for boxes. With the advancement, we have more options other than cardboard. You can go traditional with cardboard. However, you can also have an option of metalized boxes and eco-friendly boxes.
Metalized boxes for luxury look:
Metalized boxes always give a rich look to boxes. You can have gold or silver foiled metalized boxes. With the facilities available, you can now have custom design metalized boxes. Metalized boxes would be durable and sustainable at the same time. Additionally, this material makes boxes shiny and eye-catching. Which will overall give a visual impact to your eyeliner and attract customers.
Eco-friendly boxes to go green:
You can also go green with your custom boxes by using eco-friendly material. The world is now concerned with the conservation and safety of the environment. You can help save the earth from extra debris and waste by opting for biodegradable materials. You can mark the box as eco-friendly; it will not only raise the value of the product but also conserve the earth. This type of customized box will give an overall good impression. Every environmentalist will consider your product as valuable and give preference to it.
Why use custom eyeliner boxes:
One might question why to go through all this trouble to customize your eyeliner box. Well, the answer is simple through customization you can decide everything according to your preference and make it exclusive. You can select material, style, size, and design according to what best fits the product. You do not have to go with ready-made and common designs. Instead, you will be creating your innovative customized boxes. This will make your product distinctive. Since packaging is the first thing that enters customers' eyes, one needs to invest time in planning it.